Stay and play at Legacy Ranch
Escape to a natural setting where play and relaxation are the only things on your "to do" list. In addition to our impressive hunting grounds, Legacy Ranch is a year-round destination that includes 40 acres of space dedicated to recharging and reconnecting with friends and family. Less than an hour from San Antonio, Legacy Ranch is a beautiful, wild and secluded refuge for your group to come together away from the demands of daily life.
Spend the day exploring the ranch with your family or group, then retreat to your fully-appointed, comfortable, modern farmhouse-style private vacation home to rest and recharge.
It's the perfect destination for family gatherings, corporate groups, church retreats or any other occasion that brings people together for fun, relaxation and connection.
Legacy Ranch partners with some great companies that help complete your experience with us. We offer a personal chef as well a mobile massage therapist that can help you relax after a long day on the ranch.
Accommodations - The Guest Houses
In total, Legacy Ranch comfortably sleeps up to 78 guests; contact us regarding bigger groups.
The Main House
$1500/Night
5 Bedrooms
Sleeps 12 to 14
6 bathrooms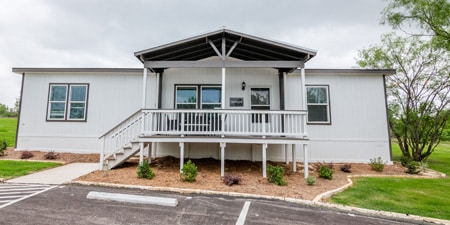 The Trenton
$475/Night
3 Bedrooms
Sleeps 8 to 12
2 bathrooms
The Isabel
$450/night
3 Bedrooms
Sleeps 8 to 12
2 bathrooms
The Annie
$450/night
3 Bedrooms
Sleeps 8 to 12
2 bathrooms
The Weston
$395/night
3 Bedrooms
Sleeps 8
1 bathroom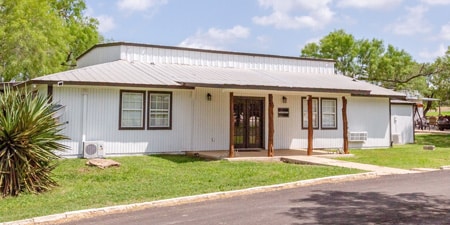 The Meridian Hunting Lodge
$950/night
5 Bedrooms
Sleeps 14 to 20
4 bathrooms
About your stay at Legacy Ranch
We provide everything that families or groups need for a comfortable, memorable and enjoyable stay. Here's what you can expect during your visit:
Hotel-style amenities in each guest house, with towels, sheets, shampoo, conditioner, body wash and hair dryers provided.
(Casitas only) In order to stay with us 2 accommodations must be selected on our booking form.
Fully appointed kitchens in each guest house, with dishware, silverware, pots and pans, utensils, and basic appliances.
Ceiling fans and/or box fans available in every bedroom.
Each guest house is cleaned before and after your stay.
Direct TV & Wi-Fi available throughout the property.
All guest houses and amenities are within easy walking distance of each other.
Paved roads from the ranch entrance to all guest areas
Pets welcome!
Legacy Ranch welcomes well-behaved dogs! Pet deposit and cleaning fee required.
Groceries and supplies available 15 minutes away in Hondo, Texas (including HEB and Walmart).
6% lodging tax applied to stay